A Safe Place to Explore Your Faith
You're invited to services this weekend.
Sundays at 9:30 & 11:00am
ONE CHURCH WITH THREE CAMPUSES SERVING THE SAINT JOSEPH, STEVENSVILLE AND BENTON HEIGHTS AREAS.
YOU BELONG HERE
You're invited to services this weekend. We meet every Sunday and would love to get to know you.
First Church is committed to igniting Christ's passion in everyday people
to restore God's ideal.
OUR CURRENT SERMON SERIES
Wisdom Says: How to Live Wise and Well
DRIVE-IN CELEBRATION
Sunday, June 7th at 11:00am, Lake Michigan College.
VACATION BIBLE SCHOOL
Vacation Bible School is happening! You're invited to join the ride July 12th – 16th at First Church.
FAQ
All your questions about First Church answered here.
• Saint Joseph Campus: 9:30 & 11:00am
• Stevensville Campus: 9:30am & 11:00am
• Benton Heights Campus: 11:00am
Each First Church Campus has a dedicated parking lot located on church property. Each parking lot has handicap access. You will see our parking team when you pull in and they will point you where to go!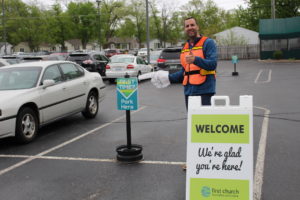 We have children's programming during each service at First Church. Checking in your children is an easy process done by our friendly volunteers. You can either preregister your children below, or check them in before service begins.
• You can preregister your children for our KidZone programming here.
• You can read everything you need to know about KidZone here.
At First Church there is no dress code, feel free to dress however you'd like.