A Safe Place to Explore Your Faith
You're invited to services this weekend.
Sundays at 9:30 & 11:00am
WELCOME
You're invited to services this weekend. Services are happening online + in person this weekend and we would love to get to know you.
FAQ
All your questions about First Church answered here.
Where is First Church located?
What time are Sunday Services?
• Saint Joseph Campus: 9:30 & 11:00am
• Stevensville Campus: 9:30am & 11:00am
• Benton Heights Campus: 9:30am (Spanish) & 11:00am
• Online Campus: 9:30 & 11:00am, Streaming Live on YouTube, Facebook & myfirstchurch.com, 94.9WSJM
Each First Church Campus has a dedicated parking lot located on church property. Each parking lot has handicap access. You will see our parking team when you pull in and they will point you where to go!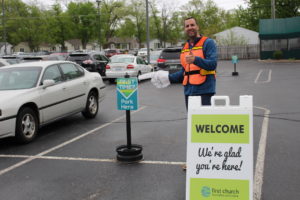 Is there programming for my kids?
Your children will have a blast in KidZone which is designed to provoke discovery and invite kids into a new understanding of how to grow in relationship with Jesus.
Everything that is taught in KidZone is based on one of three basic, but powerful, truths modeled by Jesus in Luke 2:52: I need to make the wise choice. I can trust God no matter what. I should treat others the way I want to be treated.Everything in KidZone is carefully designed to help your child creatively learn about Jesus through interactive lessons, music and hands-on age-appropriate activities.As we welcome kids home to KidZone, rooms will be clean and sanitary to ensure a safe and productive return. While the nurseries will remain closed for a time, classrooms will be opened with kids grouped in multiage settings. Parents are asked to first well check their children at the KidZone Check-in. Following the well check, parents may then proceed to check their kids into their classroom.Those families opting to stay home for the time being, may also engage with KidZone by joining us each weekend for an on-line Big KidZone and Little KidZone worship experience. Parent resources and the worship experience is sent each week via email. Parents may subscribe to the KidZone email by emailing kidzone@myfirstchurch.com.
At First Church there is no dress code, feel free to dress however you'd like.
There's a Sunday Worship Experience that fits your needs.
Sunday Worship Experiences In-Person + Online + Radio
Sunday
9:30am | 11:00am Saint Joseph Campus, 2627 Niles Saint Joseph
Sunday
9:30am | 11:00am Stevensville Campus, 5767 Red Arrow Highway, Stevensville
Sunday
9:30am (Spanish) | 11:00am Benton Heights Campus, 990 N. Euclid, Benton Harbor
Sunday
9:30am | 11:00am YouTube, Facebook, myfirstchurch.com
Sunday
9:30am | 11:00am Radio WSJM 94.9 FM
A Gift for you!
RightNow Media--the Christian Netflix has thousands of safe streaming options for the entire family. Claim your totally free account today.