A Safe Place to Explore Your Faith
You're invited to services this weekend.
Sundays at 9:30 & 11:00am
YOU'RE INVITED TO SERVICES THIS WEEKEND!
YOU BELONG HERE
You're invited to services this weekend. We meet every Sunday and would love to get to know you.
First Church is committed to igniting Christ's passion in everyday people
to restore God's ideal.
WELCOME HOME
Everything you need to know about returning to in-person services at First Church.
FAQ
All your questions about First Church answered here.
Where is First Church located?
What time are Sunday Services?
• Saint Joseph Campus: 9:30 & 11:00am
• Stevensville Campus: 9:30am & 11:00am
• Benton Heights Campus: 11:00am
Each First Church Campus has a dedicated parking lot located on church property. Each parking lot has handicap access. You will see our parking team when you pull in and they will point you where to go!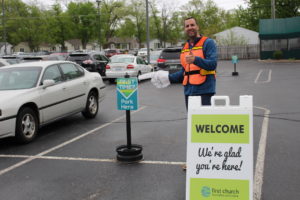 Is there programming for my kids?
As we "Return to Church" following our Governor's "Stay at Home" order, all KidZone and nursery rooms will remain closed while we prepare a safe and clean environment. We are carefully watching what schools and other childcare facilities are doing in our communities and plan to reopen this fall.
In the meantime, come and engage with KidZone at First Church by following our social media for activities and join us each weekend for KidZone and Little KidZone at-home worship experiences. These experiences, along with other family activities are sent via email to your inbox each week. To sign up, contact us at [email protected]
At First Church there is no dress code, feel free to dress however you'd like.